Today I was going to blog my recipe for a healthy  …well… an almost healthy Honey and Vanilla Cheesecake. The first time I made it (about two years ago), it was awesome! Pure awesome! Totes AMAZEBALLS (as my trying-to-be-cool-and-slightly-funny husband would say)! I wrote down the recipe as I was making it, and it was so delicious that I got the blog post ready for the blog complete with gorgeously yummy picture.
But just as I was about to click "publish" I thought "Hmmm! I think I better make it again just to make sure"… Well you know what happened don't you? Yep! Complete failure. The base was too nutty, and not soft with a bit of crunch (like it was the first time), and the filling was way too sweet, sickly sweet.
So I tried it another three times… and finally I think I got it right… and so I thought that maybe I could put the recipe on here today. But just as I was getting the post ready I had a bit of a crisis of faith. I think I better try it once more. Just to make sure.
So here I am to ramble on about something else.
You know how blogs show you the most beautiful parts of the house, and even if they show you before and after pictures, the before still isn't that bad… Well… Yesterday we started organising the back yard (when I say backyard, it is just a small courtyard off of the kitchen) which until recently has been a dumping ground for any crap that we want to put into hard pick up, a place to dump any leftover renovating products (silicon cans, paint cans, old paint rollers) and a place for us to not care about weeding.
Hubby was at work so my kids and I set about to clean up. Well that lasted about 5 minutes when MrFive knocked the old broken gate onto himself and insisted on 30 minutes of cuddles to make him feel better, and then a request of "Have I done enough to go watch some TV now?". To her credit, MissEight lasted about an hour, and in that time completed approximately 7 & 1/2 minutes work. Pretty good right? So Two hours later I came inside having completed only half of what I wanted. Still… It's a start.
The plan is to have a gorgeous herb garden out there… But I generally kill everything I plant (even weeds die around me as evidenced by the photo below) so who knows how it will actually turn out.
BEFORE                                                  AFTER
The advantage is, of course, that summer hasn't fully set in yet. So getting work done in the yard is quite nice. Anyway, I will keep you updated with the progress out here.
"And so with the sunshine and the great bursts of leaves growing on the trees, just as things grow in fast movies, I had that familiar conviction that life was beginning over again with the summer." 

F.Scott Fitzgerald – The Great Gatsby
I am a woman of winter though. I love the cold and I love scarves and I love feeling my nose go cold as I am walking down the street on a cold winter's day. But I have to say, enjoying winter when you have children is a lot harder than when you don't. You have to rug your kids up, and you don't go out on days when it is absolutely pouring, and you inevitably spend your nights rubbing Vicks on little tiny feet and chests and washing handkerchiefs over and over and over.
This last winter was actually pretty good health wise in our house – a lot better than the last few – BUT I have to say GOSH the start of summer has been brilliant! I am hoping it is not going to get too hot, but I am looking forward to days at the beach, and seeing my kids running through the sprinkler, and going on bike rides (hopefully) and maybe even a few hikes! This summer could be the best! Who is with me? We live in hope right?
There are a few things that inevitably remind me of summer…. every time I see them I think summer is here! This movie is one of them.
I think I must have seen Pretty In Pink at the local drive-in when I was (what is now known as) a tween. Obviously I had gone there with my older brothers and sister. The drive-in was on the The Straight, a road between the town where I grew up and a little town 5 minutes away. It backed onto farming properties and you could hear the sheep baaing during the movie. The drive-in was only open in the summer months so maybe that is why this movie makes me want to break out the shorts, oversized t-shirt and thongs… I have vivid memories of wandering from the car to the bathroom to the canteen and back, smelling cigarette smoke, flowers, hay, and donuts.
But most importantly, whose heart didn't not break when Andie chooses Blaine at the prom instead of Duckie? Even in my tween understanding, I knew that was the worst decision ever.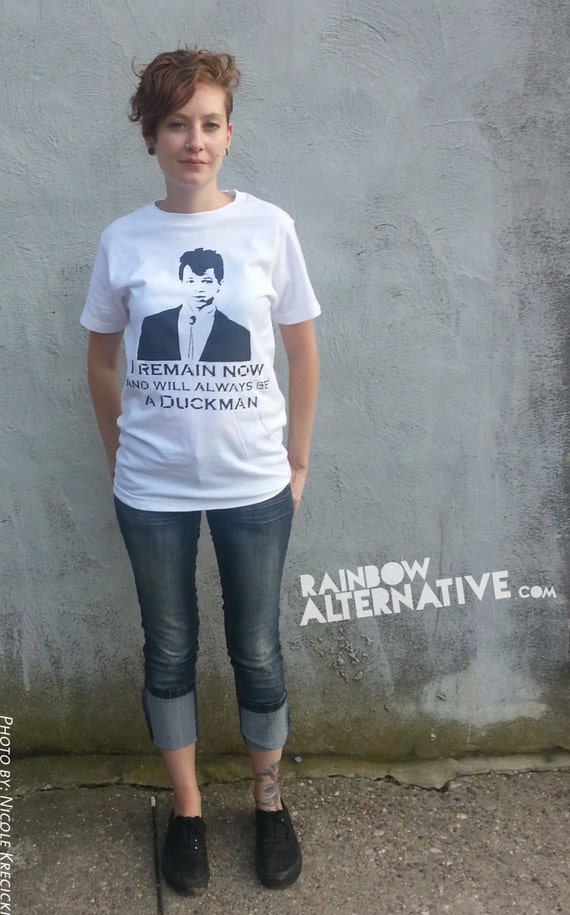 I just love this shirt from RAINBOW ALTERNATIVE on Etsy.
Click on image to go to their shop.
Let me know, What are you doing around your house? What reminds you of childhood summers?
Filed under:
Books, Movies, TV & Music
,
Garden
,
Home Organisation
,
Personal
Tagged:
Backyard
,
Cleaning
,
Family
,
Memories
,
Movies
,
Not Perfect
,
Summer